Downloadable Directory
2018 A&D Building Directory

The 2018 Directory is a complete guide to the more than 35 showrooms that have made the A&D Building, New York's Ultimate Design Resource for luxury kitchen & bath, appliances, tile & stone, floor coverings, carpeting, lighting and furniture. This year's Directory includes a complete roster of Showrooms with important Contact Information, Floor-By-Floor-Listings, Product Lines and Categories as well other relevant information to help make your visit to the A&D Building all that it can be.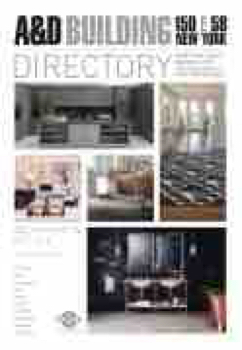 Click here to view an electronic version of the Directory, or here to download a PDF version.

Please visit the A&D Building at 150 East 58th Street (btw. Lex & Third Aves) and pick up a complimentary copy at our Concierge Desk in the lobby.